There's a New Option for Your Disposal Needs
Honest Pricing
Our pricing is designed so you're only paying for what you use. Rent by the week, day, or even the hour, and pay just for the amount you get rid of. No fuel surcharges, no environmental fees, and no hidden taxes. Just upfront, honest pricing. Contact us today for a quote.
Fast and Easy
Our aim is to provide unparalleled service and to keep your project moving along without you having to worry about hauling off your waste. Make a simple call or fill out the form below and we can have a trailer to you in no time. Our team of professionals is quick and efficient.
Experienced Employees
With over 30 years of experience in waste management, you can trust us to handle any kind of waste job. Our drivers are drug-screened, background checked, driving record checked, and have a Class A CDL, meaning they are trained and licensed to haul trailers.
Locally Owned
This means no call centers, hold music, or out-of-state employees that could care less about the community we live in. It's the kind of service you can't get from the nationwide companies, and it's what this company is built on. Local, family, friendly, caring service with a smile.
Professional Dumpster Rental Services in Charleston, SC
Unlike traditional roll-off dumpsters, our dump trailers come on wheels meaning it won't scrape up your driveway or rip up your yard. The fact our dump trailers are on wheels and are pulled by a pick-up truck, means we can fit where the big guys can't. Whether its a tight alley, behind your house, or in your garage, we can bring the trailer to the waste and make loading a breeze. Trailers are easier to permit than large container roll-offs. This means you'll be able to get your project done quicker and with less hassle.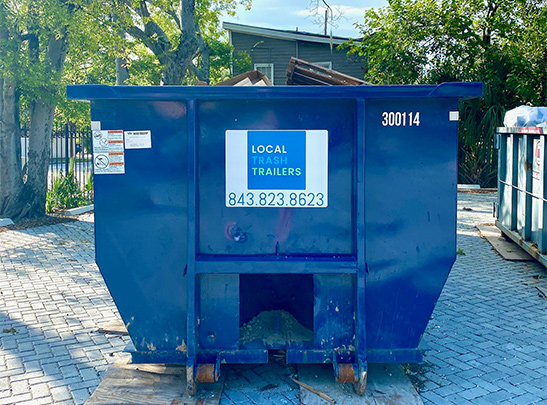 Affordable Dumpsters for Rent in Charleston
Working with a local dumpster company ensures that you receive the most personalized experience possible, as a locally based team fully familiar with the area can better assess your dumpster needs. When coordinating rentals with residents in the Charleston and Myrtle Beach areas, we start by determining which dumpster is most suitable for your project. Once you've made your selection, we'll schedule your delivery appointment and have a licensed driver take care of transporting the dumpster to your location. The entire process is fully streamlined and allows you to get answers to any questions or concerns at any time with a simple phone call.
Do you need to get ahold of a dumpster rental service in the greater Charleston and Myrtle Beach area? Whether you're planning to extensively remodel your home or landscaping or simply need assistance with waste disposal, Local Trash Trailers has the dumpsters you need.
Drop off availability same day
Times for delivery and pick-up are set up around your schedule
Dumpster models offered in 15-yard and 30-yard sizes
Excellent Service
"Local Trash Trailers were so easy to work with. I recommend to anyone and everyone needing a quick junk removal."
Convenient Clean-Up Assistance
Local Trash Trailers is proud to offer dumpsters suitable for both residential and commercial jobs. Our 15-yard capacity dumpsters can easily handle regular spring cleaning projects and landscaping debris, while our larger 30-yard dumpster roll containers can take on much larger industrial or commercial levels of waste.
Flexible Dumpster Capacities for Every Project
Our local team will help you get started with your dumpster rental by going through a few basic details regarding your project during your initial phone call, allowing us to determine which capacity makes the most sense in your situation. Factors include the amount of waste you're looking to dispose of, as well as the amount of space available to accommodate the dumpster.
Walk-in doors are a convenient feature for all sorts of projects, as they allow for easy access. That is why we've ensured this feature is included in all of our dumpster rentals.
15 Cubic Yard Model
For those looking to rent a dumpster for home-related projects, the 15-yard capacity model is usually best.
This capacity is more than enough to hold the bulkiest furniture, landscaping debris, and other miscellaneous household waste, and taking advantage of a dumpster rental will make the whole process of disposal that much easier. When you're done, a member of our team will simply haul everything off of your property.
This model features an upper weight limit of 10-tons, meaning that it is more than capable of handling heavy waste and debris, while the 8-foot width ensures it can accommodate bulky or oddly sized items.
30 Cubic Yard Model
For those who need a dumpster rental for a larger construction project on a residential property, a 30-yard dumpster rental may be more appropriate. Any debris, from entire home remodels and roof replacements to extensive landscaping, will fit easily in this model. It can also readily accommodate waste from projects on commercial and industrial sites.
Walk-in doors allow dumpster renters to easily arrange large amounts of waste inside the 30-yard dumpster, while the tall 6-foot walls ensure that all items are well contained. It is important to note that due to its larger size, this dumpster will require more space on your property, enough to accommodate dimensions of 8 x 22 x 6. This makes it less suitable for small residences with narrow or nonexistent driveways.
When in doubt, our skilled team can check in with you and ensure that you get ahold of the best dumpster rental for your project.
Why Work With Local Trash Trailers?
While you may have multiple options at your disposal, there are unique benefits to working with a dumpster rental company that is locally based.
Dependable, Swift Service | Flexible Scheduling
Our priority is to ensure that every aspect of your rental process runs smoothly. That's why our skilled agents and professional drivers work together to ensure most rental deliveries are completed within 24 hours. All of our dumpsters are housed onsite, so if your needs change at any point, we can ensure a different size or additional rental is delivered right away. Because we are locally based, we can be more flexible with our scheduling, matching your availability and your needs.
Affordable Dumpster Rentals for All Budgets
As a locally-based company, we are able to offer reduced rates. The lack of a need for a large call center or web of container providers allows us to keep our costs low, and those rate reductions are passed on to you. Since our expenses are less, your expenses are less too.
Premier Provider of Local Roll Off Dumpsters
No matter what sort of project you're planning to tackle next, from a small gardening venture to a massive industrial project, it's always better to work with local companies that can provide you with affordable, personalized service. Pick-up is available at set times and is regularly scheduled. Our team at the North Charleston office is standing by to assist with all your dumpster rental needs.