Myrtle Beach Dumpster Rental That is Easy and Safe
Using Local Trash Trailers means you are working with a team of professionals who know the downtown streets, residential areas, and local restrictions. The drivers will safely unload the dumpsters on the site. Our experience with local permitting requirements means you don't need to stress about the paperwork.
Most container requests can be processed and onsite within a 24-hour period. Our dumpster inventory is local, so additional ones are available quickly.
Are you searching for affordable waste removal dumpsters to rent in the Myrtle Beach area? Local Trash Trailers can provide you with fast and reliable service to meet all your waste disposal needs.
Need it in a hurry? We can have it there today
Dependable and timely drop off that meets your schedule
Options for both 15- and 30-yard capacity dumpsters
Our Dumpsters Fit All Kinds of Projects
At Local Trash Trailers, we have a variety of dumpsters suited to handle the needs of our commercial clients, local contractors, and homeowners. Dumpster rentals are available for both ongoing scheduled pickups of commercial and residential waste, as well as for short time rentals for residential projects. Our dumpster rentals are available in two sizes. The first is a 15 cubic yard dumpster rental that's just right for demo day during your bathroom remodel or the yearly garage spring cleaning. The second is the 30-yard dumpster roll off container, which is able to handle most commercial project needs. Let our helpful staff find the right dumpster for your project.
We Have a Dumpster Size to Match Your Project
When you schedule your local dumpster rental in the Myrtle Beach, SC area, our team members will ask you a few detailed questions about your project to make sure the dumpster matches up with your specific needs. We will confirm that the container adheres to local regulations and that the dumpster can easily maneuver through neighborhood streets and driveways.
Our 15 yard and 30 yard capacity containers are constructed with walk-in doors that make it easy to dispose of large trash items and big pieces of furniture. This walk-in door makes your kitchen demolition projects much simpler.
Rent the 15 Cubic Yard Capacity Dumpster
The 15- yard capacity dumpster is a popular choice for many homeowner projects and backyard tree removal and landscape updates. It can also fit the needs of residential contractors doing smaller remodels.
A container can simplify disposing of yard waste, demo day debris, or unwanted furniture on moving day. Save time by not having to make numerous trips to your local landfill. You load up the dumpster, and we'll haul it away.
The dumpster measures 8-feet-wide allowing it to fit easily in your driveway space, yet still have the capacity to handle that bathroom remodel. With a 10-ton weight capacity, this size container can accommodate many home trash cleanups with heavy debris including masonry, dirt, and concrete.
Rent the 30 Cubic Yard Capacity Dumpster
If you are taking on a large-scale home renovation or need trash removal for your commercial business, you will want to find a dumpster that can easily meet that capacity requirement. The 30- cubic yard dumpster measures 8 x 22 x 6, making it ideal for large roofing jobs, multi room home remodeling, and industrial and commercial trash disposal.
The walk-in doors on our 30-yard Dumpster ensures you can easily dispose of large pieces of kitchen demolition and unwanted appliances and furniture. Due to the size of our 30-yard Dumpster rental, it does present some space limitations, depending on your specific area or neighborhood regulations. The dumpster may not be able to maneuver the roadways in all areas, and a driveway's size can impact its usability.
Our local staff is familiar with the Myrtle Beach area and can assist you in choosing a dumpster that will fit both your needs and the project site.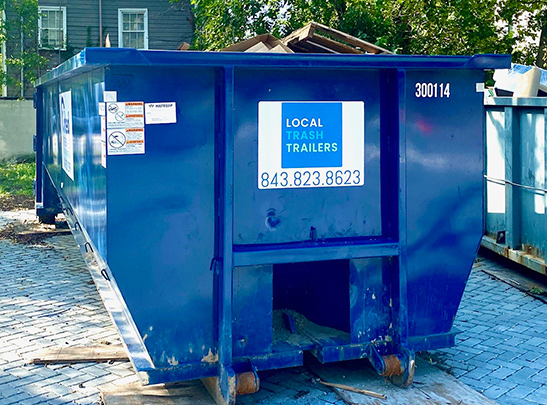 Why Rent from Local Trash Trailers
If you are trying to find a dumpster to rent in the Myrtle Beach, SC area, there are many options of both national brands and local companies. However, choosing to rent from a local dumpster rental company has many advantages.
We are a Locally Owned Myrtle Beach, SC Area Dumpster Rental Company
The most important reason to choose a local dumpster company is efficiency. Our company knows the area. Our drivers are familiar with the neighborhoods and can maneuver the highways and side streets with ease. Each step of the rental process takes place right here in Myrtle Beach. We store our containers locally so that means they get to you faster. Working with a local business means your dollars stay in your town.
Service That is Fast and Reliable | Scheduling That is Flexible
Our local office staff will help you to choose the right dumpster capacity for your projects. They will schedule both the drop off and pickup times that meet your timeline. Our highly trained professional drivers ensure service that is safe and reliable.Since we are located in the Myrtle Beach area, we offer a fast turnaround time – from booking to drop off. Question, concerns, or last-minute changes? One local contact takes care of it all.
We Offer Dumpster Rentals at Competitive Prices
Being local allows us to keep our dumpster rental prices competitive. We do not have the overhead associated with large rental companies such as call centers and container distribution network costs. This means we can pass the savings onto you.
Dumpsters for Your Myrtle Beach Residential Project
Home renovation projects and garage cleanouts mean trash. No matter the size of your remodel or landscape redesign, we have a dumpster to make clean up safe and easy. No need for multiple drips to the landfill. Contact our local office, and let us help you choose a dumpster rental that fits your project.
Dumpsters Rentals for Commercial and Industrial Needs in Myrtle Beach
Local Trash Trailer rentals are a great option for your business waste disposal needs. We offer long term trash pickup contracts as well as short-term rentals for onsite construction projects and office cleanouts.
Outstanding Customer Service
Our dedicated professional team is here for you from start to finish. Whether it is your first container rental or you are an established customer, we strive to create a seamless customer experience. We know the area, we know the regulations, and we know how to safely dispose of your waste.