The Charleston, SC Area Local Dumpster Rental Company
One of the biggest advantages to choosing a local dumpster company is the fact that we are local. Every aspect of the rental process is handled right here in Charleston. Our experienced office staff will help you choose the right dumpster for your project. They will then set up delivery and dispatch the professional drivers to drop off your rental dumpster. This makes for a much quicker turnaround time from the moment you speak with an agent until the time we drop off your dumpster. And, if you have any questions along the way, you only need to remember one phone number.
Are you searching for waste disposal dumpsters for rent in the Charleston, SC area? Local Trash Trailers can help you clean up after your next home renovation project, landscape redesign, or other waste disposal needs.
Same day drop off available
Drop off and pick up based on your schedule
Available in 30- and 15-yard capacity containers
We Can Help You Clean Up
At Local Trash Trailers, we have dumpsters available to handle both commercial and residential projects. From 15 -yard capacity dumpster rentals for a garage clean out project or back yard redesign to a 30-yard dumpster roll off container available for your commercial or industrial project, we have you covered.
Choose the Dumpster Size to Fit Your Needs
When setting up your local dumpster rental in the Charleston, SC area, our professional staff will ask you a number of questions to ensure you get the right size dumpster for your project. We will make sure the dimensions of the containers align with your disposal needs and that the dumpster fits the driveway and road space.
Both our 15- yard capacity dumpster and the 30 -yard capacity dumpster feature walk-in doors allowing you to easily dispose of large debris and bulky furniture items. This convenient walk in feature makes home renovation projects much easier.
15 Cubic Yard Capacity
The 15- yard capacity dumpster rental is ideal for most homeowner and small contractor residential projects.
A container this size allows you to conveniently dispose of yard waste, small remodeling job debris, or unwanted items from a home clean out. No need to make multiple trips to the landfill; just fill your dumpster, and we'll pick it up and take it away.
This 8-foot-wide roll off dumpster is able to handle a weight limit of up to 10-tons, making it the perfect size for room remodels, while still enabling you to dispose of heavier debris such as dirt, concrete, or bricks.
30 Cubic Yard Capacity
If you are tackling a larger project, you may need to rent a dumpster with more capacity. Our 30-yard dumpster rental is the right size for larger residential projects, including large scale renovations, landscaping work, and roof replacement jobs. It is also a good fit for many commercial and industrial projects that require additional disposal capacity.
The 30-yard Dumpster features walk-in doors and 6-foot walls that will allow you to easily remove any large pieces of construction waste or bulky home furnishings. Keep in mind, the 8 x 22 x 6 dimensions of this dumpster rental mean that it may not be workable for some driveways and residential areas.
Our experienced staff can help to determine which container is the best fit for your needs.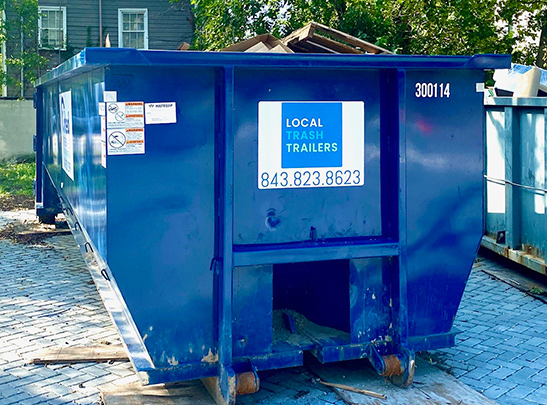 Reasons to Choose Local Trash Trailers
When you need to rent a dumpster in the Charleston, SC area, you have a lot of options. There are several advantages to choosing a local dumpster rental company.
Fast and Reliable Service | Scheduling When You Need It
Our team of experienced agents and seasoned drivers will make sure your experience is a positive one. Most orders can be processed and delivered within 24 hours. We store our containers right here so if you need additional dumpsters due to unforeseen circumstances, we can get them to you quickly. As a local dumpster rental company, we are in a position to quickly pivot and are able to offer scheduling to fit your needs.
We Offer Competitively Priced Dumpster Rentals
Being local allows us to price our dumpsters lower than comparable chain rental companies. Since we don't have the costs of maintaining a call center or a vast network of container providers, we are able to pass the savings onto our customers. Our lack of overhead means you pay less.
Charleston's Choice for Local Roll Off Dumpsters
If you are in the market for a roll off dumpster for your commercial building or are looking for a dumpster for your next renovation project, choose local. We offer set time and regularly scheduled pick up options. Our office is located in North Charleston, and we are ready to help you find the dumpster that fits your waste disposal needs.